Nowadays people have become more productive and always try to save their time as much as possible. That time has gone when people had to spend hours sitting and typing down the documents. Now people can type when taking a stroll jogging running errands or even working out. The dictation software has made the task of typing much easier than ever. No matter whatever your profession is with the help of this software you can easily type 250 words in just a minute.
Even in many business organisation typing down the dictated memos and instructions are necessary. For example, many lawyers, doctors and other professionals use to dictate the instructions to their secretaries. It helps their stuff to cope up with their work. Later these dictations are noted down which consumes quite a good amount of time. This double dictation process is undoubtedly a waste of time. But with the help of a dictation software these organisations, where time is considered as money, can prevent these unfortunate waste of time.
If you use dictation software you can enjoy several benefits. The main benefits that you will get from these software are:
Saves Time
The main benefit of a dictation software is it saves time. Most people can type 20-30 words per minute when an expert can type around 57 words on a normal keyboard. This situation worsens when the keyboard becomes the touch screen one. And when the writer needs to think and type the speed becomes slower. And that's why it takes much time to complete the writing.But when you have a speech to text software to assist you typing to become faster. You can speak almost 250 words per minute and so almost this amount of word will be typed by this software which is pretty awesome. It also saves the labour, especially of the secretarial staff.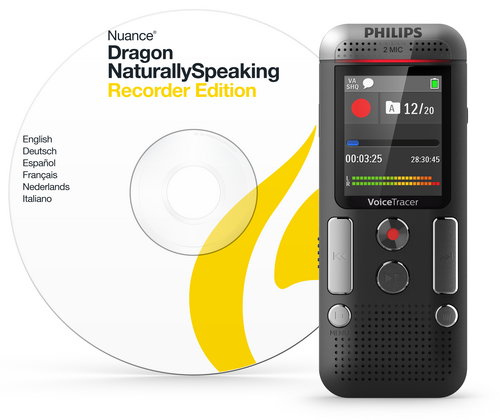 Increase Accuracy
Most of the time we face the problem with the spelling. Even though we know any word we can hardly remember its spelling. And checking every word while writing a comprehensive essay or any document not only slow down your writing but also hamper your writing process. With the help of a dictation software, you can easily get over these problems. You will be able to work more efficiently as the processing time will become shorter. Your documents can be typed as fast as your thinking process.
Type Freely
This software has freed you from the front of your monitor. Now you no longer have to write sitting in front of your monitor.If you are one who like to think while walking you can easily do this with the dictation software. Also, you no longer have to manually copy paste every item. You can instruct the software and it will do the job of copying. For example, if you want to insert your signature in any document you can simply command the software "insert signature" and it will do accordingly. For those who can't afford to hire an assistant, this software can fulfil the place of the assistant of noting down the details of work. And in this regard, the software is even more efficient than the assistant.
Apart from these, there are several benefits a good software like the
dragon dictation
can provide you. These are:
1. You can attach the original dictation to the transcription.
2. In this software, your dictation will be automatically routed and even transcribed.
3. You can add custom commands like "create a new note" or "set a reminder for" to the newer version of dragon naturally speaking software.
4. Dragon legal which is specially designed for the lawyers include legal terminologies in it.
So many benefits are included in this software. Apart from helping the professionals, they can be extremely beneficial to the dyslexic students or people who have graphomotor weakness or word